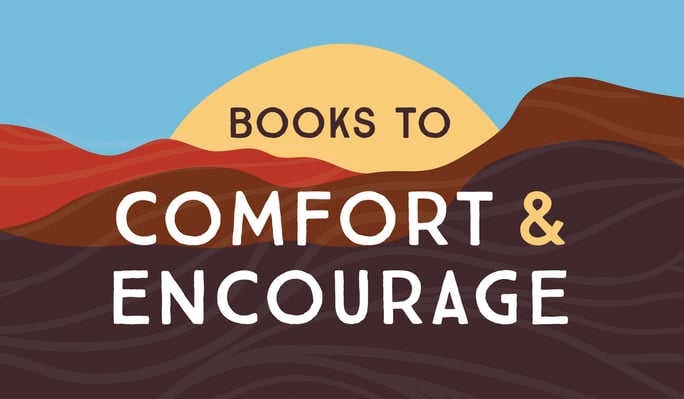 Our mental health affects every aspect of our lives, and this has become even more evident during the past few years. While we all have different ways of practicing self-care and mental well-being, we know that books can help us understand how we feel and process our experiences, as well as be a source of encouragement and comfort. Below are several titles that focus their attention on mental well-being, healing, and hope.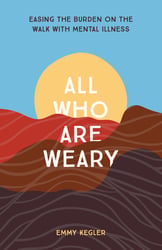 Easing the Burden on the Walk with Mental Illness
Emmy Kegler
9781506467801
We live in an age uniquely attentive to the problem of mental illness. More than half of us will be diagnosed with a mental illness. All Who Are Weary is not a map to a cure. Rather, Emmy Kegler joins the reader on the long walk of reflection, understanding, and compassion, trusting in the promise of a lighter load for us all.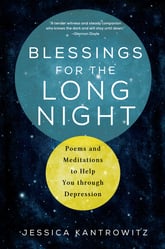 Poems and Meditations to Help You through Depression
Jessica Kantrowitz
9781506480398
When you're in the midst of depression, time can feel like an eternity. In Blessings for the Long Night, Jessica Kantrowitz's poetry acknowledges the pain and relentlessness of depression and offers gentle presence and hope. This book does not promise healing or deliverance; it is not a guide to praying away the depression. Rather, through these poems, Kantrowitz, who has been where you are, hopes to sit next to you in the dark while you wait for the light to emerge. You are not alone and this will not last forever.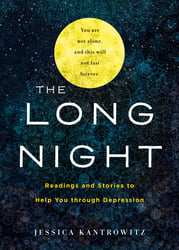 Readings and Stories to Help You through Depression
Jessica Kantrowitz
9781506456645
This book is for those who are in the long night of depression. It does not promise healing or deliverance; it is not a guide to praying away the depression. It is simply an attempt to sit next to you in the dark while you wait for the light to emerge. Drawing on the wisdom of spiritual figures from the past and present—including Henri Nouwen, Thomas Merton, Barbara Brown Taylor, Bunmi Laditan, and many others—The Long Night is a comforting and inspirational companion for anyone in the midst of depression. Writer, editor, and minister Jessica Kantrowitz has been where you are. As a mentor and friend, she will walk with you on this journey toward life and light.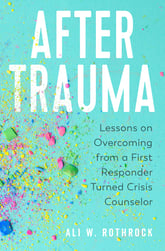 Lessons on Overcoming from a First Responder Turned Crisis Counselor
Ali W. Rothrock
9781506480633
We all have the ability to redefine ourselves, to feel hope about what lies ahead, and to choose our own way forward. After Trauma is a story of adversity, grit, defiance, choice, and hope. Ali Rothrock explores the fallout from trauma, the ripple effects those experiences have on our lives, and finally, a path toward healing. Each chapter offers a lesson to help readers overcome their own trauma, including concrete and actionable advice on how to re-story a life after adversity.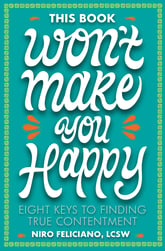 Eight Keys to Finding True Contentment
Niro Feliciano
9781506480411
Happiness is fleeting. And what if you don't even need it to live a life of peace and purpose? In This Book Won't Make You Happy, therapist Niro Feliciano offers a path to something much more achievable and abundantly more satisfying: contentment. By incorporating eight simple postures rooted in cognitive behavioral science and mindfulness practices into our daily routines, we can move away from anxiety and toward balance and calm. Through these practices we will overcome obstacles that hold us back from living full, meaningful, contented lives.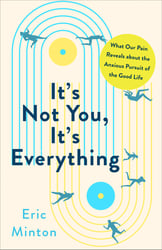 What Our Pain Reveals about the Anxious Pursuit of the Good Life
Eric Minton
9781506471914
If we can agree on anything, it's that we are not okay. But what if it's not us? What if it's . . . well, everything? What if trying to conform to a sick culture is actually making us sick? It's Not You, It's Everything is a timely and incisive inquiry into the anxious pursuit of happiness at all costs. In an impertinent, droll, yet pastoral voice, psychotherapist and former pastor Eric Minton suggests that our "not-okayness" will require rethinking everything we thought we knew about God, depression, the economy, culture, education, technology, and happiness. By naming all the ways we're not okay, we move away from fear and shame and toward love, and trust, and trustworthiness. On the other side of our pain is a radical "okayness" that might just set us free.
Mindfulness Practices for Everyday Bravery
Leah Katz
9781506481647
Western society too often trains women out of feeling innately confident in who we are and in the wisdom we hold inside. Dr. Leah Katz draws on her training as a psychologist and her experience leaving an ultra-Orthodox Jewish faith and culture to offer tools and insights for getting "unstuck" from society's unrealistic and often harmful expectations for women that we have adopted as our own. By learning to identify what is holding us back, and adopting a mindset of joy, gratitude, and resilience, we can fulfill our dreams—and, really, fulfill ourselves.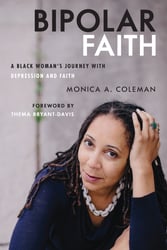 A Black Woman's Journey with Depression and Faith
Monica A. Coleman
9781506480756
Bipolar Faith is both a spiritual autobiography and a memoir of mental illness. In this powerful book, Monica Coleman shares her lifelong dance with trauma, depression, and the threat of death. She examines the ways that the legacies of slavery, war, sharecropping, poverty, and alcoholism mask a family history of mental illness. Only as she was able to face her illness was she able to live faithfully with bipolar. And in the process, she discovered a new and liberating vision of God.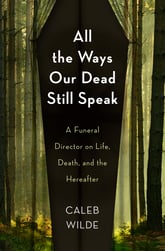 A Funeral Director on Life, Death, and the Hereafter
Caleb Wilde
9781506471617
What if our dead remain with us? What if the hereafter intersects with the here and now? Caleb Wilde, author of the acclaimed memoir Confessions of a Funeral Director, takes us on a lyrical and tender quest to encounter the hereafter in All the Ways Our Dead Still Speak. He takes on prevailing dogmas about death: from a narrow Christian view of heaven and hell, to secular assumptions that death is the end, to pop-psychology maxims that say we all need "closure" after our loved ones die. In the pages of this unforgettable book, learn how love and memory and mystery fuse this world to the next.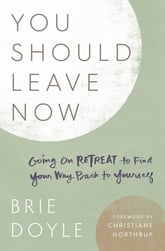 Going on Retreat to Find Your Way Back to Yourself
Brie Doyle
9781506466958
If you want to live an extraordinary life, one in which your heart, mind, and spirit are in sync, you have to make space for your soul. You have to leave, in order to come back to yourself. Written as if by a wise and cherished friend, You Should Leave Now is a gentle, practical guide to drawing rich benefits—mental, emotional, and spiritual—from a personal retreat. Brie Doyle's extraordinary work opens the doors to rediscovering rest and rekindling your inner spark.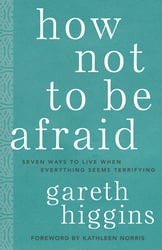 Seven Ways to Live When Everything Seems Terrifying
Gareth Higgins
9781506469034
Fight, flee, or freeze: Are these our only options for responding to fear? In How Not to Be Afraid, Gareth Higgins addresses seven common fears and invites us to change the course of our stories through seven habits of hope rooted in Celtic spirituality. Pointing us toward tenderness, empathy, and gentle encounter with others and with our deepest fears, Higgins helps us discover that peace is the path to itself.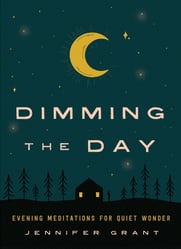 Evening Meditations for Quiet Wonder
Jennifer Grant
9781506471198
The moon is out, the air has cooled, and you are ready for bed. Power down your phone, take a breath, and begin to dim the day. Author Jennifer Grant offers gentle meditations that help you direct your gaze away from screens and uncertainties and toward the natural world. Dimming the Day guides you to focus on the wonders of God's good earth, from the ordinary head of a dandelion to the exquisite beauty of a fractal. Replace anxiety with awe, distraction with focus, and worry with true rest.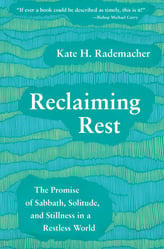 The Promise of Sabbath, Solitude, and Stillness in a Restless World
Kate H. Rademacher
9781506465999
What does pressing pause look like? In Reclaiming Rest, Kate H. Rademacher explores the gifts of solitude, stillness, and Sabbath rest in a world of motion and noise. Ultimately, Rademacher claims, pausing for sacred rest pierces our illusions of self-reliance and control—and that's good news. What if keeping the Sabbath is not only a command to obey but a gift to reclaim?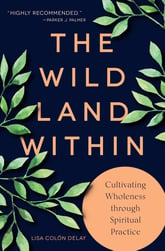 Cultivating Wholeness through Spiritual Practice
Lisa Colón DeLay
9781506465081
Spiritual practices are wildly popular today—and for good reason. But they can lead to distressing encounters with wounds we didn't even know we had. In The Wild Land Within, spiritual companion Lisa Colón DeLay helps us consent to God's healing in wounded places so we are able to fully receive the fruits of our spiritual practices. The wilderness of the heart may be untamed, but you don't need to go there alone.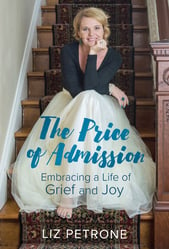 Embracing a Life of Grief and Joy
Liz Petrone
9781506458786
On the surface Liz Petrone looks as if she has it all. But, like many women, she is desperately lonely and dealing with ghosts of her own. Raw, unflinchingly honest, and surprisingly funny, The Price of Admission is written from a universally understood place of struggle, whether that is the deep darkness of grief or the demanding, yet joyful, haze of everyday life spent caring for ourselves and our families. Liz provides a timeless reminder to world-weary readers that, often, it is because of our pain that we grow, survive, and–yes–thrive.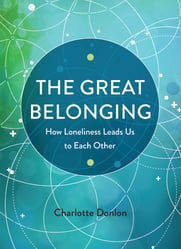 How Loneliness Leads Us to Each Other
Charlotte Donlon
9781506461960
Loneliness has reached epidemic proportions. In an age of mobility and fraying civic life, we are all susceptible to its power. But what if loneliness is a current that leads us deeper into belonging—to ourselves, to each other, and to God? In The Great Belonging, writer and spiritual director Charlotte Donlon reframes loneliness and offers us a language for the disquiet within. Instead of turning away from the waters of loneliness for fear they will engulf us, she invites us to wade in and see what we find there. Ultimately, Donlon claims, we can find connection that emerges from honesty, and she offers tools, resources, and practices for transforming loneliness into true belonging.
How to Stop Wavering and Make Decisions in a Disorienting World
Stephanie Williams O'Brien
9781506465920
We make thousands of decisions each day, and while most of them are simple and relatively easy, many of us get stuck in the larger, life-altering decisions. This can lead to frustration, anxiety, and confusion. In Make a Move, pastor and coach Stephanie Williams O'Brien offers practical advice and action steps for moving through the experiments of life. These steps help us narrow down the choices when it seems like the options are endless, and allow us to discern God's leadership in a way we never could while standing still.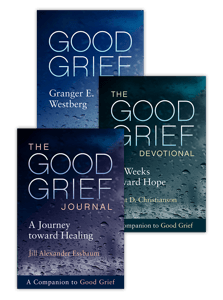 Various authors
There is no "right" way to grieve; grief is complex and deeply personal. For more than fifty years, Good Grief has helped millions of readers find comfort and rediscover hope after loss. Whether one is mourning the death of a loved one, the end of a marriage, the loss of a job, or other difficult life changes, Good Grief is a proven steady companion in times of loss.
In addition to Good Grief, the Good Grief series offers a devotional and a journal for those searching for more resources to help them heal. The three books can be purchased as a complete set, in bundles of two, or individually.
To view all of our books, visit broadleafbooks.com.