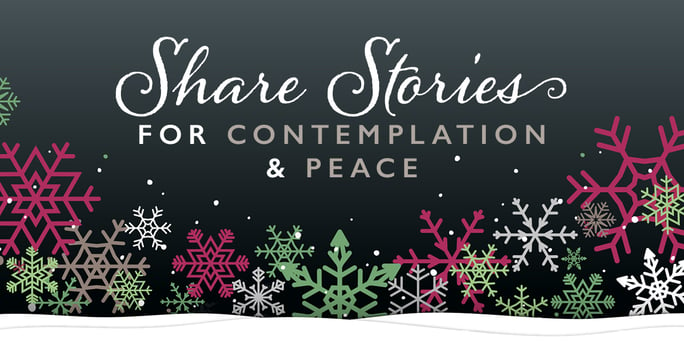 Oftentimes, it is easier to find peace in the stillness. When we take intentional time to pause, breathe, and clear our minds, we give ourselves the opportunity to relax and refresh our often weary souls. Give the gift of stories that inspire us to seek the quiet moments in our lives and search for the everyday sacred.
From now through Christmas, get free shipping and 25% off all purchases with code BLHOLIDAY25 at check-out.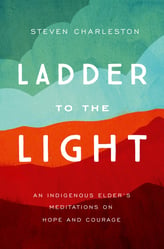 An Indigenous Elder's Meditations on Hope and Courage
Steven Charleston
9781506465739
Native America knows something about cultivating resilience and resisting darkness. Choctaw elder and Episcopal priest Steven Charleston offers words of hard-won hope, rooted in daily conversations with the Spirit and steeped in Indigenous wisdom. For all who yearn for hope, Ladder to the Light is a book of comfort, truth, and challenge in a time of anguish and fear. Night will not last forever. Together we can climb toward the light.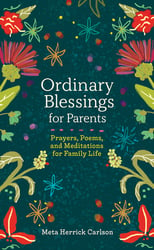 Prayers, Poems, and Meditations for Family Life
Meta Herrick Carlson
9781506481517
Those of us who care for children know how hard and heroic caring for young people can be. But when we're caught up in the day-to-day challenges of raising children, we can easily miss the sanctity of these moments. Gifted poet, empathetic pastor, and mom of three Meta Herrick Carlson names the moments we take for granted or that make us second-guess ourselves. Ordinary Blessings for Parents includes blessings for washing bottles, for belly laughs, for the death of a beloved adult, and for the legacy we want to pass on. If you're a parent or caregiver, you are bound to find a word you didn't know you needed and to pass a blessing or two on in solidarity with other families in your life.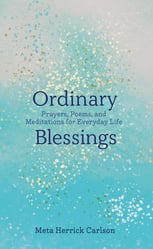 Prayers, Poems, and Meditations for Everyday Life
Meta Herrick Carlson
9781506450612
The ordinary moments of life can be sacred, if we simply take time to notice. From gifted poet and empathetic pastor Meta Herrick Carlson, Ordinary Blessings is a collection of prayers, poems, and meditations offering a brief respite from the hectic, harried pace of our days. Pause, take a deep breath, and open these pages to find that you've been standing on holy ground all along.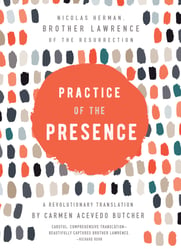 A Revolutionary Translation by Carmen Acevedo Butcher
Carmen Acevedo Butcher (translator)
9781506478609
Since it was first published in its pocket-size 1692 edition, Brother Lawrence's spiritual classic has remained in print, beloved by people of varying spiritual paths and religious traditions. Brother Lawrence's years as a humble kitchen worker at a monastery, often remaining in the shadows of his community, gave way to a spiritual life that was profound. Poor, living with a disability, lacking a formal education, enduring a time of plague and civil unrest, he found God in the depths of his soul, experiencing God's loving presence throughout the day. With this new translation, award-winning translator Carmen Acevedo Butcher frees it from its centuries-long prison of dogmatic, binary language and creates a dynamic, faithful translation for a new generation of readers.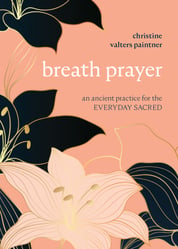 An Ancient Practice for the Everyday Sacred
Christine Valters Paintner
9781506470672
For centuries the practice of breath prayer has helped center people from a variety of faith traditions on the sacred in everyday life. Through brief words of prayer or petition said silently to the rhythm of one's breath, this simple, meditative act combines praise for the divine with focused intention, creating a profound spiritual connection in the quiet, and even mundane, moments of the day. In Breath Prayer, Christine Valters Paintner introduces us to this spiritual practice and offers beautiful poem-prayers for walking, working, dressing, cleaning, sitting in silence, doing the dishes, living in community—breathing the divine into our daily lives.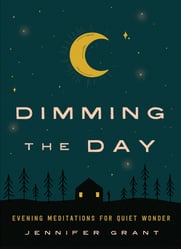 Evening Meditations for Quiet Wonder
Jennifer Grant
9781506471198
The moon is out, the air has cooled, and you are ready for bed. Power down your phone, take a breath, and begin to dim the day. Author Jennifer Grant offers gentle meditations that help you direct your gaze away from screens and uncertainties and toward the natural world. Dimming the Day guides you to focus on the wonders of God's good earth, from the ordinary head of a dandelion to the exquisite beauty of a fractal. Replace anxiety with awe, distraction with focus, and worry with true rest.
To view all of our books, visit broadleafbooks.com.