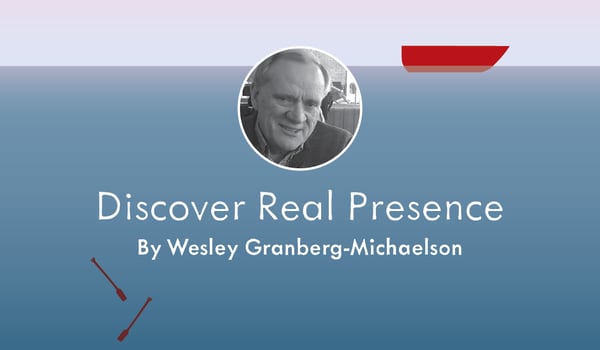 Excerpt from Without Oars, chapter 2
The constant threads, headlines, and enmeshed social networks in the online world are not simply distracting inordinate amounts of our attention. We often project a superficial, false self into the virtual world that we curate through our pictures, our likes, our posts, our tweets, and our profiles. Our screen time protects and nurtures this false self as we market ourselves to our "friends." Walking away from this superficial self, with its subtle but insatiable desire to be liked, often means taking distance from our screens.
Darker realities also ensue, requiring a posture of suspicion and a discipline of distance. We share our tastes, hobbies, trips, books, political views, sports loyalties, and so much more about our lives online to connect with others. But all this information and more beyond our awareness is sucked up by companies to use for their commercial gain. These treasure troves of personal data are the currency of the companies that drive the internet.
Companies learn what we like, where we go, and how we think in order to better exploit us for their profit. Ad revenue is driven by the frequency and duration that our eyes are on screens. Internet companies working on this model have an incentive to make our online presence as addictive as possible and have perfected the means to do so.
In a survey of 2,300 mobile phone users in the US and the UK, over one-third felt their phone usage was having a negative effect on their health and well-being. So, the ubiquity and power of our screens provoke some counter-measures—commitments to limit our time, or that of our teenagers. We ban phones from family dinners. We seek a "fast" from social media. We employ apps to restrain our use of other apps. But most of those attempts gradually falter.
This "irresistible attraction to screens is leading people to feel as though they're ceding more and more of their autonomy when it comes to deciding how they direct their attention." writes Cal Newport in Digital Minimalism. That threat should pierce our hearts. Who or what decides where our attention goes? As apps on our phones now deliver podcasts and uninterrupted music to us anywhere, we are "provided for the first time the ability to be continuously distracted from [our] own mind[s]." Recognizing the reality of this addiction, Newport advocates a thirty-day period of total abstinence in order to then build a more self-directed, restrained use of our devices.
How do we overcome omniscient distractions and find the self-directed agency to discover real presence, first of all, to our true selves? That's the burning question. But centuries before screens, contemplatives asked and then answered the same question, not with rational responses, but with embodied practices. For ages, men and women living as monks, cloistered nuns, hermits, and wandering pilgrims have mastered the art of turning loneliness into solitude, creating a real presence to themselves, and to God. Their lessons and practices are not cloistered today; they offer liberating tools that can resurrect and protect the space for real presence for all who desire detachment from the omnipresence of screens. Simply consider this: you can't walk on unexpected pathways while looking at screens. The "classic" experience of the Camino de Santiago today begins in France at St. Jean Pied de Port, at the base of the Pyrenees, as featured in the movie The Way with Martin Sheen. It usually takes pilgrims thirty to thirty-five days to walk the 480 miles to Santiago de Compostela from St. Jean Pied de Port.
As I approached the portion of the Camino I was walking, I thought it would be a convenient sabbatical from my screen. I began to think about loopholes. Music, I thought. What about listening to music? The chants of Taizé, music of Marty Haugen—I had already started to build my playlist. As I was planning to go, I asked my wife's cousin, Mark Van Oss, who had walked the Camino from St. Jean and inspired my pilgrimage, about music. Mark demurred. Better, he advised, to just be fully present to all the sights and sounds encountered on the way.
How many steps does it take to clear the mind? It takes time, and often thousands of steps. Our smartphones mimic our minds in some ways. On my iPhone, when I go to a site and view what's on the screen and then go to another site, the first screen keeps functioning in the background. This happens continually, and eventually the memory gets crowded. What helps is to press twice on the control button at the bottom of the phone, and then all the previous screens still running will appear in a staggered sequence. Then, with your finger you flip each screen to the top, and it is cleared. You do this until no screen but the present one is functioning.
Our minds are constantly distracted by what we've seen or done. Or remembered. All these things hum in our brains, absorbing pervasive information, messages, music. From a perpetually distracted mind, it is difficult to find a centered mind, our true self. The invitation to walk brings us to a place where we can slowly clear away the constant preoccupations running in the background, and sometimes the foreground, of our minds. We are invited to, step by step, dropped oar by dropped oar, let them go, allow them to slip off our internal screens, empty ourselves of crowding distractions, and open up interior space. That's when our mind can catch its breath, or God's breath, setting forth to sail without oars.
Walking breeds holy forgetfulness. Holy forgetfulness can emerge in other ways as well: centering prayer at 5:30 a.m. in a special chair, matins at a monastery, practicing mindfulness in Zen meditation. But the walking pilgrim gradually leaves behind the distracted mind by physically leaving the spaces of those habitual distractions.
I'm not a Luddite. I took my phone on the Camino. I took pictures. In my bunk at night in the albergue, I sent text messages to my wife. When I had energy, I posted pictures with an update on my progress. Readers and friends encouraged me, even when my body was exhausted by the climbs, the distances, the weather. That set of images and reflections on the journey, in part, have informed how I have now continued to use my digital devices. They are a model for how I'd want to reconstruct my relationship to the digital world. The steps I took were steps to real presence that provided a wisdom formed within my body, not outside of it.
As Richard Rohr says, "Wisdom is not the result of mental effort." Our life's pilgrim journey proceeds by three movements that reach beyond the mind to the heart and the body: detachment, attention, and connection.
Detachment is the first step, already described. Beyond the incessant distractions delivered by our electronic screens, and the predictable comfort of normal routines and relationships, a pilgrim walks away for a time from the responsibilities of work or ministry. We detach ourselves from what we do to discover, or rediscover, how to be. I try to remember this: "Prayer is detachment from the fruit of our actions." That's what I sought, for instance, when moving cross-country from Washington, DC, to Missoula, Montana.
The pilgrim also becomes detached from their "self." Our culture preaches that everything revolves around the individual. The belief is that some version of the "self" is at the center, in control of our destiny. We speak the language of self-actualization, self-fulfillment, self-importance, self-sufficiency, and being a self-starter. Negatively, our disappointments, failures, and pains can become the sole lens through which we view all of life, again placing ourselves at the center. I don't discount the joy of achievement or the pain of our suffering. But seeing ourselves truly requires detachment from seeing ourselves at the center of everything. Detachment from intrinsic narcissism helps us become present to our true selves, dependent only on the mystery of God's breath. It's an inner freedom from the pressure of external expectations.
Detachment allows attention. For the Christian pilgrim, the individual is not walking away from an external world that is illusionary. Rather, they walk toward the deeper realities of God's presence, undergirding all that is. That requires a reflective, interior attentiveness. Detachment opens the space for this practice of the soul.
Images may be helpful, such as the boat without oars in the water, still guided by a wind, or a soldier at "attention," with a singular focus of one's body and mind, ready to hear and respond. Or antennae, which receive and transmit signals that move in a realm beyond sight and sound. The word attend, coming from the same root as attention, means a commitment to be present. All those images frame the picture and the practice of a pilgrimage.
Walking on a pilgrim's pathway provides a discipline for attention. At a physical level you can't be distracted from where your footsteps lead, for you may either slip and fall or lose your way. You also become more present to unexpected sights, like an ancient Celtic cross by a tree, or the words "Dios te habla, Dios te escucha," written as graffiti on a milepost: "God speaks to you, God listens to you."
You acquire presence toward what your pilgrimage presents on your way.
Attention allows connection. At some level, we all yearn to shed our false selves and become present to what mystics like Merton call our "true self." This is the core of our being, which rests apart from all that we do, which lies beyond all that we suffer, and which finds its life only in the flowing stream of God's love. That self is our truest identity, but it is hidden from us by all the layers of false selves, by all the distractions that divert our attention, and by all the voices that lure us away from the silence of presence.
A pilgrim's steps are inward movements seeking connection with their true self. Often on the Camino, I found myself asking, "Why are you who you are where you are?" But here's the mystery of encountering who we really are: in the contemplative journey of a pilgrim, this becomes linked to the experience of God's real presence. This presence is never anything that we attain. Instead, it is given, a pure, unexpected gift, outside of all control, but irreplaceable as the membrane surrounding our true self, our soul.
This intertwined connection to self and to God overflows in connection to others, and to all creation. The mystical irony is that pilgrim paths of solitude, when touching holy interior and exterior destinations, break forth into community. Attentive to the present, pilgrims meet one another eye to eye. Along the Camino, my continual surprise was how koinonia would erupt, in chance encounters anything but accidental. Real presence was not only my discovery of a truer self beyond the noise, in multiple moments; it was the experience of community with others.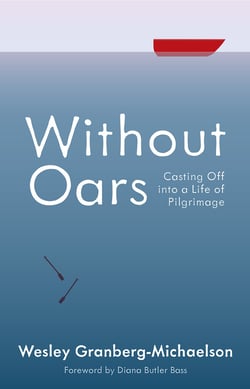 Click here to learn more about Without Oars by Wesley Granberg-Michaelson.