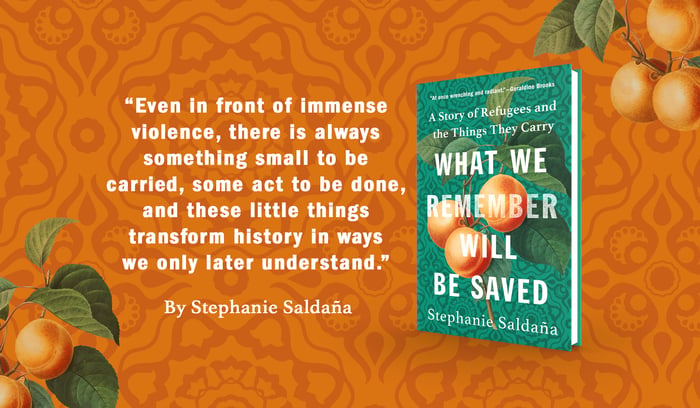 There are always hidden historians among the survivors of war. These are the people who carry the stories of what happened with them when they escape, so that the past can be remembered. More often than not, they carry these stories not in books but through little things. A sapling, a spoon, a scarf, a recipe for eggplants stuffed with walnuts, a prayer in a dying language. I have come to believe that a lost neighborhood can be salvaged in a song and that an entire city can be carried in a dress. I have met those who save the past simply by speaking it aloud, who write the dead into living by planting a tree. This book is about these historians and the stories they rescue. It is also a chronicle of war and migration told to me by those who managed to stay alive.
In 2016, I set out on a series of journeys across the Middle East and Europe to try to understand what Syrian and Iraqi refugees were carrying with them as they escaped war, to listen to the stories these ordinary objects might have to tell us. I had lived in Syria as a student years before the war broke out, and I knew Syrians to be artisans: a people who love beauty, cooks who care about the way food is displayed on a plate, musicians and poets, makers of soap. By the time I began my journey, so many thousands of people had died in the war in Syria that the United Nations had stopped counting. More than half of Syria's population had been displaced, just as millions of Iraqis were also being uprooted as ISIS occupied their cities and towns. We were witnessing the largest refugee crisis in modern history. So much was being lost. The war introduced me to the terrible goneness of things.
Yet I trusted that those escaping were also finding ways of saving the stories of the cities they left behind. Where were the famous pastry chefs of Homs, still carrying their recipes? The traditional storytellers of Sinjar, carrying their epic poems? Who would remember the stories of the friendships that vanished in Mosul? Where were the oud musicians? The last speakers of Aramaic?
In time, I began to hear stories: Of a young musician from Homs, Syria, who crossed the sea with his violin wrapped in cellophane. Of Syrian mothers teaching their children recipes for egg-plant jam in the refugee camps of Lebanon. Of an entire orchestra created from Syrian classical musicians in exile in Germany. By their very being, these individuals were articulating a version of history in which they were not victims but agents, the small things they salvaged not mere fragments but windows into the histories they were now entrusted with remembering and transmitting to future generations. I felt that if I spent more time listening to stories like these, I might begin to understand not only what was being lost in war but also what was being rescued.
I knew I would need to meet these historians where they now were. I would travel to Jordan, Iraq, the Netherlands, Turkey, Switzerland, England, France, Greece, and Germany, speaking to Syrian and Iraqi chefs and gardeners in exile, painters and curators, a political cartoonist, photographers. I decided to narrow the focus of my writing on stories told to me by those who had escaped the swath of geography between Qaraqosh in Iraq and Aleppo in Syria, a borderlands region of extraordinary diversity that had been devastated by war, with entire populations now displaced. The people whose stories I tell in What We Remember Will Be Saved naturally reflect just some of the many voices of that region: religious and secular; Muslim, Christian, and Yazidi; Arabic-, Kurdish-, and Aramaic-speaking neighbors now scattered all over the world, many of whose very identities are bound up in living in conversation with one another.
I would meet a woman who saved her city in a dress. A musician who saved his city through his songs. A couple who saved not one pharmacy but two. A young man who saved stories of Muslim-Christian friendships as his city fell apart. A son who saved his family on a mountain and then saved the story of what happened so that it could be remembered.
In time, these individuals became my teachers. It is because of their stories I now know that, even in front of immense violence, there is always something small to be carried, some act to be done, and that these little things transform history in ways we only later understand.
"Awal al-shajara bithra," goes the saying in Arabic. A tree begins with a seed.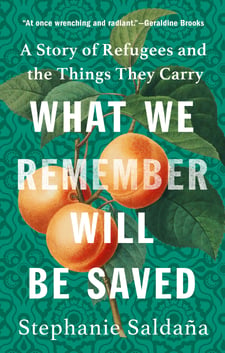 This is an excerpt from What We Remember Will Be Saved, prologue.