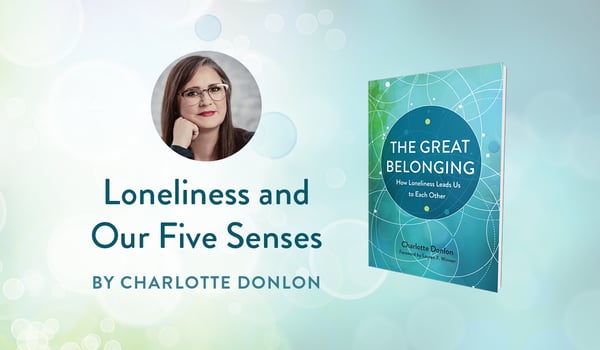 Excerpt from The Great Belonging, chapter 14
It's tempting to think of belonging and loneliness as primarily emotional experiences, but we are whole beings who inhabit this world in our physical bodies. We hold loneliness in tense necks and crossed arms. We hold belonging in confident postures and friendly smiles.
We might think of the embodiment of loneliness only when considering its pathologies. Medical studies show chronic feelings of isolation can have a negative effect on one's physical health. Loneliness can contribute to heart disease, type 2 diabetes, arthritis, and more. Lonely people are also twice as likely to develop Alzheimer's disease. Isolation increases the production of stress hormones, harms sleep, and impairs cognitive abilities. These effects of loneliness produce chronic inflammation, which lowers immunity to the degree that lonely people can experience worse symptoms from the common cold. The chronic stress of loneliness can also age the body more quickly and cause extensive damage to one's overall well-being.
But if our bodies can register the trauma of loneliness, they can also console us during loneliness and help find its antidotes. Specifically, our senses can console. Our bodies' abilities to see, smell, hear, taste, and touch assist us as we process our emotions so our minds don't have to do all of the work. The five senses help us notice and respond to the world around us. They form a bridge between the external and the internal, providing connection points that enable us to remember who we were, recognize who we are, and dream about who we want to become. Our senses help us belong to our various selves held together by the past, present, and future.
With our sense of smell, we take in aromas that remind us of certain seasons or specific moments when we felt safe and sure of who we were. When it rains, the smell reminds me of the freedom of my childhood and how I would return outside after a summer shower to play in the park across the street from my house or search for tadpoles in a nearby stream. Decades later, when I sit on my balcony on a drizzly afternoon, the scent of rain settles and soothes me.
With our sense of hearing, we listen to songs that rekindle feelings from years ago or a week ago, when we felt more secure in our identities. I hear a song by the band R.E.M. and think of high school and the hours and hours I spent by myself in my bedroom, singing along happily or choreographing silly dances to show my friends the next time we were together.
With our sense of taste, we savor food that makes us more aware of our desires and cravings. I grab a bowl out of my kitchen cabinet and add a cup or so of plain Greek yogurt. I sprinkle it with sea salt and za'atar and drizzle it with extra virgin olive oil. Every nourishing bite of this meal, which I make often when I don't have to worry about what anyone else wants or needs, brings me home to myself.
Sometimes I think of loneliness as a sort of mindfulness bell calling me to query my senses. If I am feeling lonely in a particular moment, I ask myself, What am I seeing, tasting, touching, hearing, and smelling? Are there any connections between my senses and this particular feeling of loneliness? How can I engage my senses so I can have a more significant connection to myself and this present moment?
An example: my children's experience of drinking hot chocolate. It doesn't snow much where we live, maybe once every year or two. But whenever it snows, I make homemade hot chocolate for them to drink after they're done playing outside. They strip off their soaked coats, hats, and gloves, and sit down at the kitchen table. Still exhilarated from the novelty of their snow adventures, they sip hot chocolate while we discuss who got hit with snowballs and how fun it was to slide down the hill by our house.
Feelings of joy and connection might be associated with the sight, aroma, and taste of hot chocolate for the rest of their lives. When they are adults and feeling lonely or blue, I hope they pull out the cocoa powder, milk, sugar, and vanilla extract and make a serving or two of hot chocolate. As they sip the warm, sweet beverage and recall happy snow-filled memories, I hope they remember who they were and marvel at who they've become. I hope a comfortable belonging enfolds them, protects them from the stings of isolation, and heals their wounds of desolation.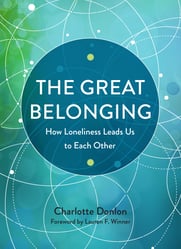 Click here to learn more about The Great Belonging by Charlotte Donlon.