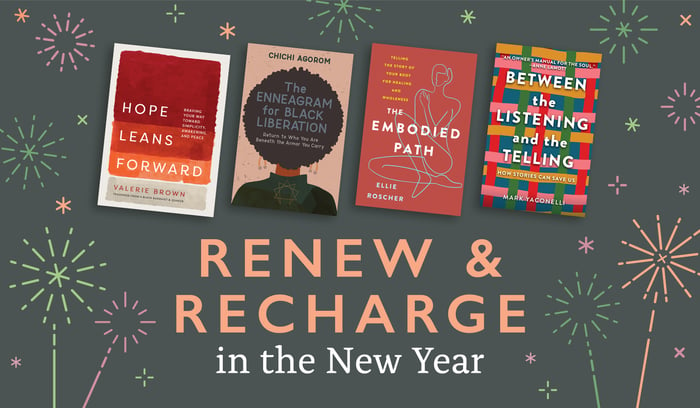 During the holiday season, we often find ourselves rushing from place to place, our heads filled with so many to-dos, shopping lists, and other thoughts. The start of the new year is the perfect time to take a step back, let go of the past, and create space for intentional reflection and rejuvenation. No matter your goals for the year ahead, the books below offer wisdom and inspiration as you set priorities and discover the truest version of yourself—the you that's been there all along.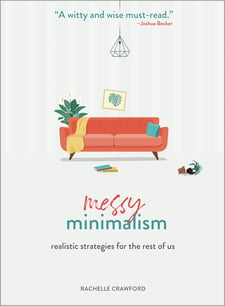 Think minimalism means a perfectly curated, always tidy home? Think again. Drowning in tides of toys, overflowing closets, and a crazy schedule, Rachelle Crawford assumed you had to be naturally organized to keep a tidy living space. Then she found minimalism: the messy, real-life kind that is less about perfection and more about purpose. With empathy, grace, and humor, Crawford shares doable ways to own less and live more fully. Learn to become a more conscious consumer, create a capsule wardrobe, inspire family members to join you, free up more time for the things that matter, and create a tidy(ish) home.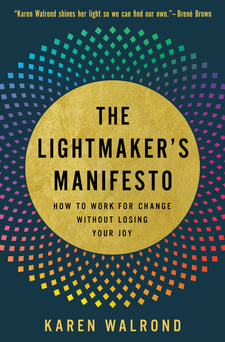 Many of us want to advocate for causes we care about—but which ones? We want to work for change—but will the emotional toll lead to burnout? In The Lightmaker's Manifesto, activist Karen Walrond shares strategies to help you define the actions that bring you joy, identify the values and causes about which you are passionate, and put them together to create change. Includes conversations with changemakers Valarie Kaur, Brené Brown, Tarana Burke, and Zuri Adele.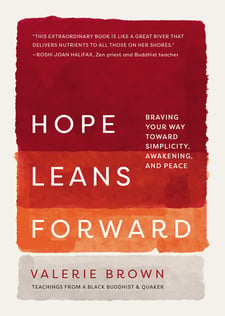 Daily we are asked to move toward bravery, to stretch in the direction of goodness, kindness, forgiveness, patience, and vulnerability. Filled with Quaker wisdom, mindfulness meditation practices, and portraits of real people living out simple yet life-affirming bravery, Hope Leans Forward is a guidebook for all of us who are on journeys of self-transformation, self-discovery, and spiritual discernment. Centering small, everyday acts of bravery with diverse stories from marginalized communities, Valerie Brown's unique perspective as a Black Buddhist Dharma teacher in the Plum Village tradition and her extensive leadership experience shepherd us in navigating life's essential questions to discover true aliveness and meaning.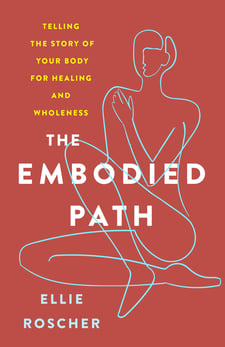 Our bodies have a story to tell. When we turn toward our bodies with curiosity and reverence, we honor those stories, embrace our inner dignity, and make space for more agency. The Embodied Path tells more than twenty body stories, woven together with Ellie Roscher's own body story and insights, to do the essential work of resistance and repair at the individual and communal level. Our bodies are always talking to us, trying to get our attention. Our work is to unfold, to listen, and to claim the truth about our beautiful, storied bodies.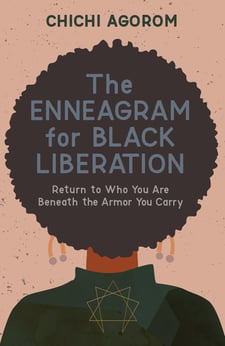 The Enneagram for Black Liberation
For too long, conversations about the Enneagram and its personality types have been centered on and by whiteness. In The Enneagram for Black Liberation, certified Enneagram teacher and trained psychotherapist Chichi Agorom reclaims the Enneagram as a powerful tool for Black women to rediscover our wholeness and worth that existed long before systems of supremacy told us we weren't enough. Centering freedom, ease, and rest for Black women, Agorom invites each of us to claim the Enneagram as our tool for resilience-building in the continued fight for liberation.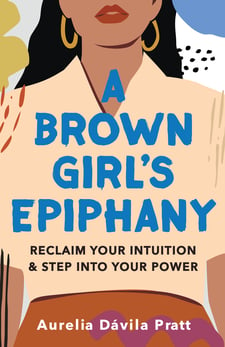 Each of us has traumas, triggers, and painful experiences that have shaped our existence in this world. With the powerful voice of a woman, pastor, mother, and advocate, Rev. Aurelia Dávila Pratt gives us the compassionate nudge and tools we need to access our inner authority. By stepping out of harmful belief systems informed by white supremacy and scarcity, we can step into healthy paradigms of abundance, liberation, and power. A Brown Girl's Epiphany is a love letter to all of us in need of guidance on our journey. Honest, vulnerable, and humble, Pratt imagines a world where the walking wounded become the fully healed and liberated, where our inner work becomes the starting point for creating heaven on earth.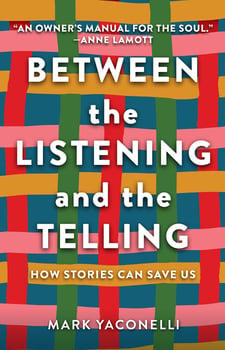 Between the Listening and the Telling
Stories tether us to what matters most: our families, our friends, our hearts, our planet, the wondrous mystery of life itself. Yet the stories we've been telling ourselves as a civilization are killing us. With a foreword by Anne Lamott, Between the Listening and the Telling offers an alloy of story, commentary, and meditation. In an era of runaway loneliness, alienation, global crisis, and despair, sharing stories helps us make a home within ourselves and one another. We tell stories to remember who we are. We tell stories to savor the pleasure of living. Stories can be medicine, and they can transform entire communities.
This Book Won't Make You Happy
Happiness is fleeting. And what if you don't even need it to live a life of peace and purpose? In This Book Won't Make You Happy, therapist Niro Feliciano offers a path to something much more achievable and abundantly more satisfying: contentment. By incorporating eight simple postures rooted in cognitive behavioral science and mindfulness practices into our daily routines, we can move away from anxiety and toward balance and calm. Through these practices we will overcome obstacles that hold us back from living full, meaningful, contented lives.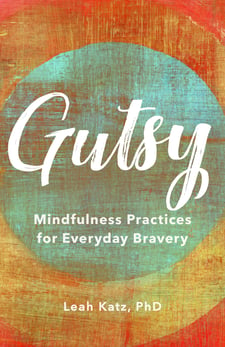 Western society too often trains women out of feeling innately confident in who we are and in the wisdom we hold inside. Instead, we are handed down a set of expectations about our bodies, our disposition, our religious identification, our sexual orientation, our mothering, and our career choices. In Gutsy, Dr. Leah Katz draws on her training as a psychologist and her experience leaving an ultra-Orthodox Jewish faith and culture to offer tools and insights for getting "unstuck" from society's unrealistic and often harmful expectations for women that we have adopted as our own. It's time to get gutsy and create the rich, vibrant life we have always wanted.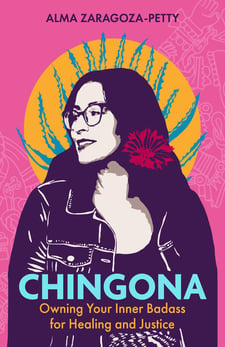 Creating the world you want to live in takes guts and grace and everything you've got. To heal the world, though, you've also got to find healing yourself. In Chingona, Mexican American activist, scholar, and podcast host Alma Zaragoza-Petty helps us claim our inner chingona, a Spanish term for "badass woman." Working for change while preserving her spirit, a chingona repurposes her pain for the good of the world. This work won't be easy. Imagining a just and healed world from the inside out will take dialing in to our chingona spirit. But by unleashing our inner badass, we join the righteous fight for dignity and justice for all.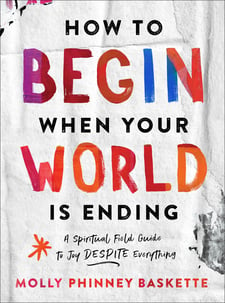 How to Begin When Your World Is Ending
When Molly Phinney Baskette was diagnosed with an aggressive cancer at age thirty-nine and with two small children, her theology of and relationship to God were tested more profoundly than ever. In How to Begin When Your World is Ending, Baskette shares the questions that confronted her along the way. Weaving together her own story and the stories of those she has encountered in her life of faith, Baskette mines joy from all the hardest parts of being human. In doing so, she reminds us that whatever you are going through, someone has been there before you, and found meaning in the madness.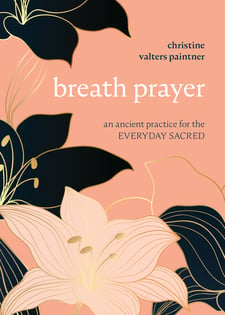 For centuries the practice of breath prayer has helped center people from a variety of faith traditions on the sacred in everyday life. Through brief words of prayer or petition said silently to the rhythm of one's breath, this simple, meditative act combines praise for the divine with focused intention, creating a profound spiritual connection in the quiet, and even mundane, moments of the day. In Breath Prayer, Christine Valters Paintner introduces us to this spiritual practice and offers beautiful poem-prayers for walking, working, dressing, cleaning, sitting in silence, doing the dishes, living in community—breathing the divine into our daily lives.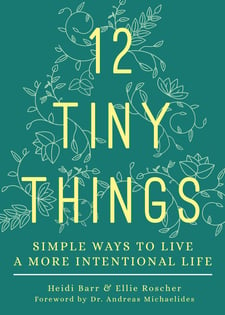 In a culture that says bigger is better, it is subversive work to take tiny, lasting steps toward learning and growth. In 12 Tiny Things Ellie Roscher and Heidi Barr journey with us through twelve essential areas of life: space, work, spirituality, food, style, nature, communication, home, sensuality, creativity, learning, and community. In each of these areas, we are invited to take one tiny action that is sure to open up growth and renewal. By trying on one tiny thing at a time, you can slowly, deliberately, and playfully remember who you are. Together, we will reach and grow toward the sun.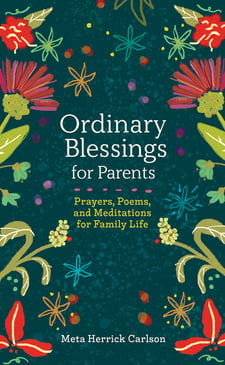 Ordinary Blessings for Parents
Those of us who care for children know how hard and heroic caring for young people can be. But when we're caught up in the day-to-day challenges of raising children, we can easily miss the sanctity of these moments. Gifted poet, empathetic pastor, and mom of three Meta Herrick Carlson names the moments we take for granted or that make us second-guess ourselves. Ordinary Blessings for Parents includes blessings for washing bottles, for belly laughs, for the death of a beloved adult, and for the legacy we want to pass on. If you're a parent or caregiver, you are bound to find a word you didn't know you needed and to pass a blessing or two on in solidarity with other families in your life.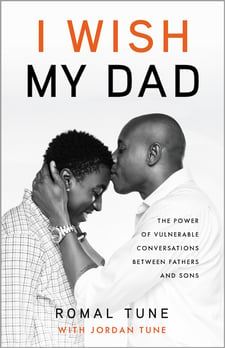 Romal Tune with Jordan Tune
Romal Tune was raised mostly without a father. He and his dad connected briefly when he was a teenager, and then had no relationship for decades. He began to wonder if other men also longed to have vulnerable conversations with their fathers. So he sat down with seventeen men of diverse ages, ethnicities, and socioeconomic backgrounds for "I Wish My Dad" conversations. In the pages of this book, he invites us into the room as the men unpack relationships with their fathers, learn to work through emotional pain, recount moments of tenderness and care, and describe risks they took to heal and connect with their fathers. I Wish My Dad helps fathers and their sons move through the past to find deep connection in the present.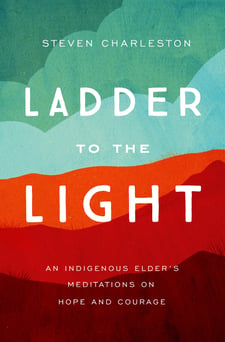 Native America knows something about cultivating resilience and resisting darkness. Choctaw elder and Episcopal priest Steven Charleston offers words of hard-won hope, rooted in daily conversations with the Spirit and steeped in Indigenous wisdom. For all who yearn for hope, Ladder to the Light is a book of comfort, truth, and challenge in a time of anguish and fear. Night will not last forever. Together we can climb toward the light.
To view all of our books and resources, visit broadleafbooks.com.