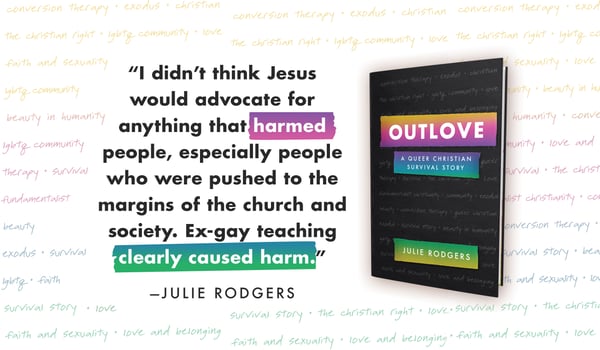 Content warning: Conversion therapy, self-harm, eating disorders, suicide
"I can't do it anymore," I said to Alan Chambers as I pushed pasta around my plate with a fork. At twenty-six years old, I had traveled to regional conferences with the Exodus International team for a full year to share my testimony. My story was used to illustrate the points ex-gay leaders made in their presentations.
"I mean, I still have traditional views of sex and marriage," I reassured Alan, "but this ex-gay stuff doesn't work. I've been at this for eight years and I'm still, like, really gay. Ex-gay teaching has pummeled people I love. They're hooked on meth and cut off from their families and suicidal. It's not okay! I can't do it anymore."
I exhaled. Then I searched his face for a reaction.
His response was completely unexpected: "Honestly, Julie, I'm sick of this too. I've sat across from countless people with your story, and I'm starting to come to terms with the damage we've done. I don't think Exodus can be reformed—I think it needs to end."
I was stunned. I was prepared for a wide range of possible responses from him, but not that.
He went on to tell me he was exhausted by the culture wars. What was it to him if two people of the same sex loved each other and wanted to be together? The Holy Spirit could speak to them if God had different plans for them—it wasn't his job to police other people's sex lives. It's time for Christians to be known by what we're for, he said, not what we're against. He wanted out of the business of judgment and condemnation—he was ready to preach a message of grace.
Then came his request: "Would you consider speaking at our conferences a little while longer and just telling the truth? Tell people exactly what you just told me. We need someone to tell the truth."
I looked down at the table and tried to make sense of what I heard.
"You mean you want me to tell people who come to ex-gay conferences that I'm still gay and that ex-gay teaching is harmful?"
"Yeah, basically," he said. "I think you can be a powerful influence for people who haven't heard the painful stories you and I have heard. It'll just be one more year. Then you can move on with your life and be done with this mess."
Cleaning up Exodus's mess was the last thing I wanted to do with the next year of my life, but I felt guilty for the part I had played in perpetuating ex-gay narratives. Plus, I knew I was uniquely positioned to be a force for change: by that point, I had spent nine years in Exodus ministries. I had seen, firsthand, how they harmed people. As a blogger and speaker, I knew that my platform positioned me to reach those who most needed to hear it. Slouched in the booth across from Alan, I felt incapable of saying no to his request.
A couple of months later, I wrote a blog post for Exodus's website that outlined the problems with telling gay people they need to become straight. I said I hadn't changed and that most of my friends were still gay. I apologized for the way Exodus wreaked havoc on countless people's lives. I spoke directly to the LGBTQ people who had been harmed by Exodus, telling them they deserved better than the shame-based messages of "leave homosexuality or leave the church." Here's an excerpt from that post:
To those of you who have been disillusioned, damaged, or downright shamed for being gay: know it breaks the heart of God and there are many of us at Exodus grieving on your behalf. I also want you to know I earnestly pray for you. I don't know many of your names or faces, but I pray the Lord will meet you and bring healing from the pain that was caused. I pray that one day we can hear your stories—stories of encountering the scandalous love of Christ in the most unexpected places. And I want you to know now what I wish you had known when you passed through before: Jesus loves you right now, right where you are.
The post exploded.
Conservatives wanted to know why someone was speaking on behalf of the largest ex-gay organization in the world saying most of the people who came through Exodus hadn't changed. And what was up with the apology? What did it mean? Was this just a rogue young leader saying she personally feels sorry, or did she represent the leadership of Exodus International?
Queer people were pleasantly surprised. Activists still called for Exodus to shut down and fully affirm same-sex love, but they were glad to hear someone acknowledge the fact that gays didn't change and that conversion therapy was harmful.
The day the post went live, a man named Michael Bussee reached out. He told me he facilitated a group for ex-gay survivors on Facebook. Michael was one of the original founders of Exodus in 1976 who left a few years after starting it when he fell in love with a cofounder. He decided to devote the rest of his life to creating safe places for ex-gay survivors to find community and support. In his message to me, he said he was shocked to hear someone from Exodus apologize to those they had harmed. He said some of the people in his group would like to take me up on my offer to hear their stories.
I joined the group and was immediately overwhelmed by the depth of the pain people brought into the conversation. With more than seventy-five members, I couldn't keep up with all of the stories of family rejection, suicide attempts, homelessness, and drug addiction. Exodus had ruined their lives. They would never get back the years they lost to coping with the pain of being told they were demon-possessed or a disgrace to their loved ones.
I quickly reached out to Randy Thomas, the vice president of Exodus, and Alan to tell them they needed to be in the group. I was only one person, and I wasn't on Exodus's staff. I didn't have the authority to speak for Exodus the way they did. And honestly, I didn't have the emotional capacity to hold all of the survivors' pain and rage by myself. This was their job.
Three weeks later, I found myself in the basement of a church building in Los Angeles, where I sat in a circle with a dozen ex-gay survivors as a television crew hovered around us. A journalist named Lisa Ling had been intrigued by the changes she saw at Exodus in the years leading up to this show. She had interviewed Alan several times over the years, and while she held him accountable for the harm Exodus caused, she was also sympathetic toward him as a human being. In her interviews, she sought to see the world through the lens of a conservative Christian whose sexual orientation was at odds with their religious beliefs, and she told the stories with compassion.
The filming lasted several hours. For the first couple of hours, ex-gay survivors shared their stories. They talked about growing up in conservative communities and wanting so badly to be good. They read journal entries from their teenage years, when they begged God to cure them and wondered why they hadn't received the healing they were promised. Many in the room had married people of the opposite sex, and they described the guilt they carried about the pain they inflicted upon their children and former spouses. They couldn't love their families the way they deserved to be loved when they were hiding and lying and suppressing their true selves. One theme that ran through every story was a deep sense of betrayal by the people they had trusted growing up.
That was the first time I remember identifying more with ex-gay survivors than Exodus leaders. I had previously been moved by the stories of friends who were hurt by Exodus, but I hadn't seen myself in their stories. As I sat in the circle on that Saturday morning in Los Angeles, I listened to these people tell my own story: the story of being an earnest kid who wanted to be good—a story of fear, exploitation, and betrayal. I wasn't as angry as they were, but I wondered if maybe it was because I wasn't as honest with myself as they were.
This sudden realization that I was also a survivor and that my suffering mattered, too, came in part as the result of a year of therapy. Shortly after I moved to Dallas, I started seeing a therapist because I had a hunch that I might have a little emotional baggage to work through. "I wouldn't say I have an eating disorder," I told my therapist when we first met. "I make sure to eat a solid four hundred calories a day." I told her I often canceled plans to work out instead and that I was having emotional withdrawals from living just thirty minutes away from Ricky.
Sydney was a Christian, but she was a licensed professional therapist, and she knew conversion therapy was bogus and harmful. She didn't have an agenda for where I landed on moral questions related to same-sex relationships. Her goal, as my therapist, was to help me live an integrated life: one where my convictions and actions were in alignment, and I had a strong sense of self.
"Listen, Julie, I don't know what the way forward will look like for you, but I know you're going to figure it out in relationship, not isolation."
Sydney helped me begin the process of disentangling myself from both my mom and Ricky. She showed me the value of setting boundaries—especially with authority figures who I'd given unfettered access to the deepest parts of myself. She helped me work through the immense guilt I felt for setting boundaries with my mom and convinced me my value was not tied to other people's approval of me. She made me feel like I mattered.
So when I found myself in that church basement in Los Angeles, sitting in a circle with a dozen ex-gay survivors, I suddenly understood I had also been abused by this system. My self-destructive tendencies weren't a sign of inherent brokenness—they were a direct response to trauma.
Other survivors were worth fighting for in my effort to end Exodus, and I was worth fighting for too. I would continue speaking at Exodus conferences, but something had fundamentally shifted—I now aligned my story with those who stood firmly against everything Exodus International represented.
I was no longer interested in theoretical questions about what God could do. I was interested in what happened to actual human beings in the real world. The more important question, to me, became, Does this teaching lead to harm or healing? I didn't think Jesus would advocate for anything that harmed people, especially people who were pushed to the margins of the church and society. Ex-gay teaching clearly caused harm.
I was, at times, manipulated. At other points, complicit. And in the end, I was brave. It's tempting to try to squeeze my years in conversion therapy into one of those categories. It would help me locate myself on the spectrum of good and evil. But life isn't always that tidy. Many of us find ourselves, at various points, a victim, a villain, and a champion.
I'm learning to have compassion for my younger self—not just the sixteen-year-old who knew she had no good options but also the twenty-four-year-old who kept smiling for the cameras, despite her misgivings. This compassion for all the different versions of myself opens me up to have mercy on those I place squarely in the evil category today. Perhaps they're also victims of a system they have not yet seen for what it truly is. It's not too late for any of us to change.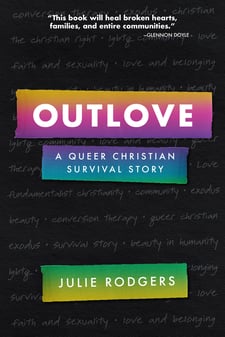 This article is an excerpt from Outlove, chapter 7.