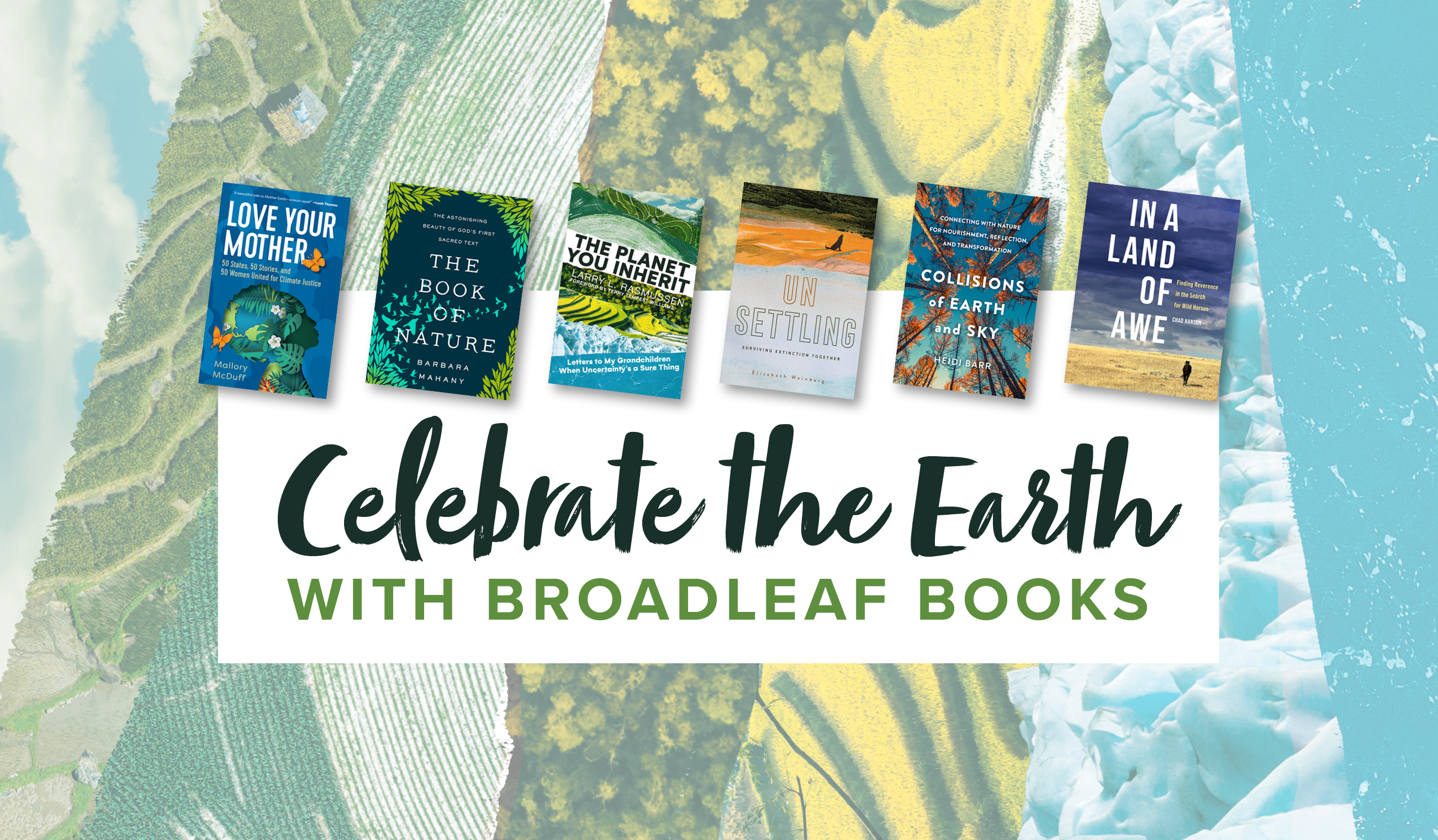 The world is a beautiful and awe-inspiring place, full of wonders both large and small. The nonfiction books below inspire us to appreciate new perspectives on the beauty and complexity of the natural world. They also look at the urgency of the climate crisis through an intersectional lens, including race and culture, and help us discover real ways we can make a difference. Be inspired to cultivate a greater sense of curiosity, gratitude, respect, and motivation to safeguard the planet we call home.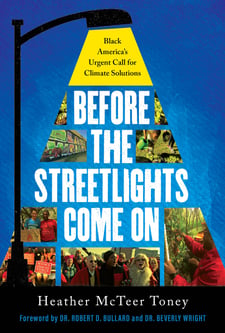 Before the Streetlights Come On
Publication date: April 18, 2023
Climate change is an issue of racial justice. Black Americans are disproportionately impacted by the effects of climate change—making up 13 percent of the US population but breathing 40 percent dirtier air and being twice as likely to be hospitalized or die from climate-related health problems than white counterparts. In Before the Streetlights Come On, climate activist Heather McTeer Toney insists that as our country delves deeper into solutions for systemic racism and past injustices, the movement must shift direction and leadership toward those most affected and most affecting change: Black communities.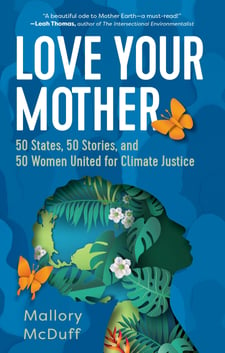 Publication date: April 11, 2023
From elder voices opposing the Dakota Pipeline to young people running for office to advocate for change, every day we see real-life stories about how women are making a collective difference on climate justice. Women are also disproportionately impacted by climate change and thus are critical to transforming society away from dependence on fossil fuels and toward renewable energy and environmental equity. Love Your Mother lifts up the stories of women of diverse ages, backgrounds, and vocations—one from each of the fifty US states—working toward a viable future. Their work lights the way for conversation and collective action in our homes and in the world. It's time we follow their lead.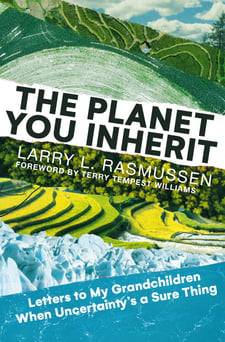 Publication date: November 29, 2022
Our children's and grandchildren's generation will face a different world, one affected by climate instability, mass uncertainty, and breathtaking extinction. In fact, the next generation will face the reality that human activity is changing the planet from one geological epoch to another. From this vantage point, Larry Rasmussen writes to his grandchildren. The Planet You Inherit explores the large questions of justice, meaning, and faith, encouraging us to speak to and look to the future generation and their future world.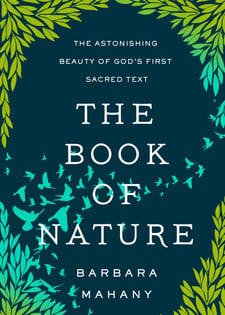 Publication date: March 21, 2023
Throughout millennia and across the monotheistic religions, the natural was often revered as a sacred text. As we grapple to make sense of today's tumultuous world, one where nature is at once a damaged and damaging source of disaster, as well as a place of refuge and retreat, we are called again to examine how generously it awaits our attention and devotion, standing ready to be read by all. Weaving together the astonishments of science; the profound wisdom and literary gems of thinkers, poets, and observers who have come before us; and her own spiritual practice and gentle observation, Barbara Mahany reintroduces us to The Book of Nature. We needn't look farther for the divine.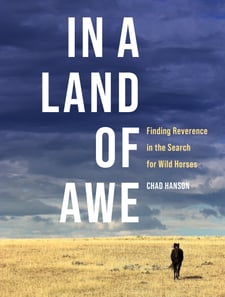 Publication date: September 13, 2022
What is a wild animal? How do feelings of reverence reconnect us with nature? What can we learn from our wisdom traditions? And in the end, what would it look like if we managed public land with the common good in mind? With wisdom gathered from the histories of the American West, geography, philosophy, theology, and sociology, we meet awe anew. In the tradition of the great literary and nature writers, In a Land of Awe serves as a plea for what we stand to lose if we don't find the courage to protect the planet's most beautiful, and vulnerable, others.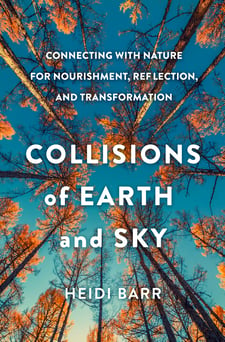 Publication date: January 31, 2023
Research indicates that spending time in a natural setting provides a plethora of benefits, from lower blood pressure to increased immunity to an enhanced sense of well-being. But the pace of our lives often leaves little room for connecting with nature, and our history of colonization complicates our relationship to the landscapes we inhabit. Guided by wellness coach and poet Heidi Barr, in Collisions of Earth and Sky we experience a journey of self-inquiry for digging into our origins and roots, figuring out what it means to be a good community member and integrating those truths and lessons so we can add to the healing of the world.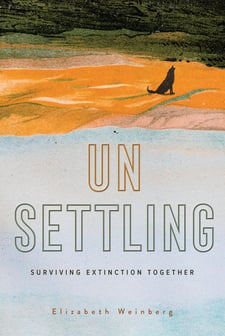 Publication date: October 18, 2022
Climate change is impacting every inhabited region of the world, but there is much we can still do. Using the stories of animals, landscapes, and people who have exhibited resilience in the face of persistent colonization across the North American continent, science writer Elizabeth Weinberg explores how climate change is a direct result of white supremacy, colonialism, sexism, and heteronormativity. With gorgeous and pointed prose, Weinberg weaves together science, personal essay, history, and pop culture to propose a new way of thinking about climate change—one that is rooted in queerness and antiracism.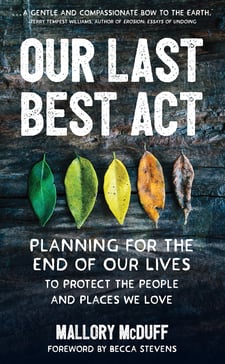 Publication date: December 7, 2021
How do we align our end-of-life choices with our values? In a world experiencing a climate crisis and a culture that avoids discussions about death and dying, environmentalist and educator Mallory McDuff takes us on a journey to discover new, sustainable practices around death and dying—and how it's possible to make end-of-life choices that honor our values, create a sustainable legacy, and help to heal the earth.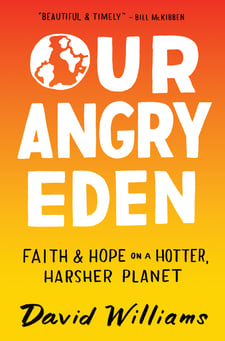 Publication date: July 20, 2021
Rising winds, ravenous wildfires, droughts, hurricanes, floods: the planet we will pass on is different than the one we inherited. Living with our angry Eden will involve a period of sustained difficulty and disruption. In Our Angry Eden, David Williams spells out how we will be morally tested, outlines nine virtues key to human thriving in the decades to come, and beckons us toward a faith and a hope resilient enough to face the effects of the climate crisis.
Click here to read an excerpt.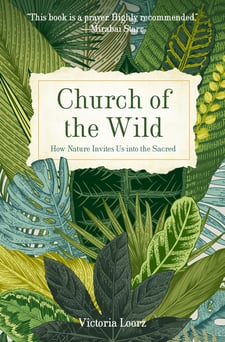 Publication date: October 5, 2021
Many of us long for a deeper spirtuality. With an ecospiritual lens on biblical narratives and a fresh look at a community larger than our own species, Church of the Wild uncovers the wild roots of faith and helps us deepen our commitment to a suffering earth by falling in love with it—and calling it church. Through mystical encounters with wild deer, whispers from a scrubby oak tree, wordless conversation with a cougar, and more, Victoria Loorz helps us connect to a love that literally holds the world together—a love that calls us into communion with all creatures.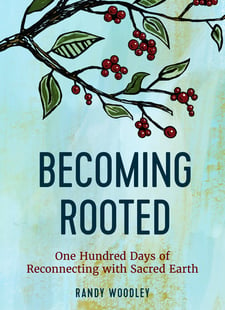 Publication date: January 4, 2022
What does it mean to become rooted in the land? How can we become better relatives to our greatest teacher, the Earth? Randy Woodley, an activist, scholar, and Cherokee descendant, guides us on a one-hundred-day journey to reconnect with the land around us, with the people native to that land, and with ourselves. Meditations, epigraphs, and ideas for reflection and action help us become rooted in our relationship with creation and Creator.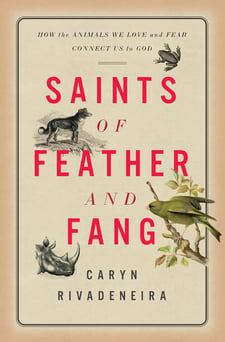 Publication date: April 19, 2022
Christian scripture teems with mammals, birds, and reptiles, and research on animals' sensory responses suggests that we not only care for our beloved animals but they, at times, care for us. In Saints of Feather and Fang, writer and lifelong animal lover Caryn Rivadeneira looks at the ways that animals—from the pets who share our homes to the mysterious creatures of the deep—serve as spiritual guides for our hearts, minds, and souls. In animals we discover and connect with the God who beckons, rescues, and shelters us with stretched-out wings.
Click here to read an excerpt.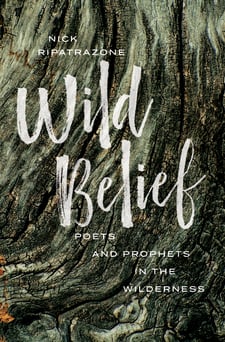 Publication date: May 18, 2021
A book for those of us who revel in the beauty and mystery of the natural world, Wild Belief brings together poets and prophets, saints and storytellers from across the ages who share a common search for the spirit. Their explorations of forests, wetlands, and deserts expose the wilderness as both a fearful and a sacred space—a tension that aptly captures the unknown and surprising elements of belief. As we join them on their search for the divine, our eyes open to the possibilities of transformation, to our most fundamental stories, and to a fertile spirituality we can only find in the wild.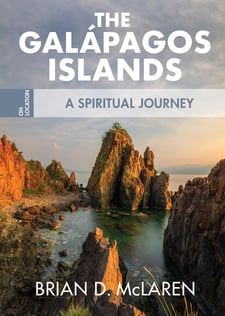 Publication date: October 1, 2019
Bestselling author Brian D. McLaren followed his love of nature (specifically, tortoises) all the way to the Galápagos Islands. There, he paid close attention to the flora and fauna around him but also to what was happening within him, how the natural world awakened his soul in a way that organized religion could not. Even though many of us will never visit the Galápagos Islands, we can travel with McLaren and experience the beauty and fragility of this extraordinary place.
To view all of our books and resources, visit broadleafbooks.com.
Searching for Earth Day reads for kids? Click here to explore books from our sister imprint, Beaming Books.